Exhibition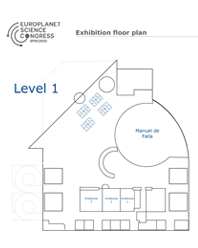 EPSC2022 exhibition floor plan
The opening times of the EPSC2022 exhibition are as follows.
Monday, 19 September to Thursday, 22 September 2022: daily from 09:00 to 18:00.
Friday, 23 September 2022: 09:00–13:00.
Exhibition booth and space options
There are two exibibition options: booth and space. Each booth or space has a dimension of 2 x 3 metres.
Exhibition booth: Includes stand construction (wall height of 2.50 m including aluminium profile) incl. front panel with company/organization name made with white cutting vinyl, capital letters and with a maximum of 20 characters. In addition, the exhibition booth includes spotlights, grey carpet, electricity (5 kW single phase) and two outlets (standard European type F plugs).
Booth sketch
Exhibition space: Only includes grey carpet, electricity (5 kW single phase) and two outlets (standard European type F plugs)
Please note that furniture and other equipment is not included in the rental. Furniture, technical equipment and extra services can be ordered separately at Grupo RCK.
Prices
Category
size
free
registrations
price
Exhibition booth
2 x 3 m
2
€2,000 net
Exhibition space
2 x 3 m
2
€1,500 net
Booking
If you like to book a booth or space, please fill out our exhibition order form and return the form to epsc2022@copernicus.org. Please also send your logo as a vector file (.eps or .svg format) and your organization description with a max. of 70 words in the booking email.
Please note that a respective Copernicus Office user ID is necessary for the booking. If you do not have a Copernicus Office user ID yet, please create an account.
After having received your filled-out order sheet, we will issue an invoice (linked to your Copernicus Office user ID) with payment instructions. You are asked to settle this invoice within 14 days by either credit card or bank transfer.
The order deadline for an exhibition booth is 19 August 2022, 13:00 CEST.
Exhibitor guide
Grupo RCK is the official stand builder for the EPSC2022. Please see their exhibitor guide to order any additional equipment (e.g. furniture) for your booth. Additional equipment must be ordered directly at Grupo RCK and will be billed by them.
Grupo RCK Granada
Contact person: Alejandro Sevilla Almendra
Paseo del Violón s/n
18006 Granada
Spain
Phone: +34 634676289
Email: info@rck.es, jose.vicente@rck.es
https://rck.es/
Delivery instructions
Exhibition deliveries to the congress centres can be made from Wednesday, 14 September to Friday, 16 September 2022, daily from 09:00–14:00. It will not be possible to deliver on other dates and/or times. Please note that 14 September 2022 is the earliest possible date of delivery. All exhibition material must be picked up for return shipment after the conference on Monday, 26 September 2022 between 09:00–14:00. The delivery to the congress centre and pickup of material from the conference centre must be arranged by the exhibitor.
Delivery address
Palacio de Congresos de Granada (PCGr)
Europlanet Science Congress 2022 (EPSC2022)
Booth no.:
Paseo del Violón, s/n
18006 Granada
Spain
Contact person: Alberto Eleno (Project Manager)
Any delivery fee incurred (e.g. VAT, customs fees) must be borne by the sender / recipient. Neither the PCGr nor the organizers will pay for any postage/shipping expenses. Deliveries requesting custom fee payments will be refused.
The PCGr will check and sign for the incoming goods/parcels/boxes and will keep an updated list of these arrivals. However, the PCGr shall not be held responsible for any shipping or delivery complications.
Set-up and dismantling
Set-up: exhibitors are expected to set up their display on Sunday, 18 September 2022, 13:00–15:30.
Dismantling: exhibitors are expected to take down their display on Friday, 23 September 2022, 12:00–17:30.
Terms & conditions
By renting a booth at the EPSC2022, the exhibitor accepts the following terms & conditions.
Any exhibitor information (logo and description) to be included in the official conference website must be provided to Copernicus Meetings by email immediately after booking.
Cancellations can only be refunded in the case of written notification prior to 27 July 2022. A cancellation fee of €250 will be deducted. No refunds will be made after this date.
The invoice for exhibition space rental must be paid within 14 days after receipt of the invoice. Otherwise, the rental will be cancelled.
Proof of insurance must be provided upon request. Exhibitors are requested to have a rider on their current insurance policy to cover loss of, theft of, or damage to their exhibit or other personal property while it is located at or is in transit to or from the PCGr.
The exhibitor shall indemnify the PCGr, Grupo RCK, Copernicus GmbH, and Europlanet Society against, rendering them and their representatives innocent, complaints, suits, or liabilities resulting from negligence of the exhibitor in connection with the exhibit's use of display space.
The PCGr, Grupo RCK, Copernicus GmbH, and Europlanet Society are not liable for loss, damage, or theft, through any cause, of goods, hand-carried items, exhibits, or other materials owned, rented, or leased by the exhibitor.
Personal effects, promotional material, and other small, easily removable valuable items should not be left unattended.
In no event are the PCGr, Grupo RCK, Copernicus GmbH, and Europlanet Society liable for incidental, consequential, special, indirect or punitive damages for any harm arising from or related to the use of exhibit space under the contract agreement.
No nails, screws, or other fixtures may be drilled into any part of the premises, including the floors. Nor may any part of the premises be damaged or disfigured in any way. Should any damage occur, the exhibitor will be invoiced for repair charges incurred.
Exhibits in the rented booth space must be set up so as to not disturb neighbouring booths acoustically or visually and to avoid the creation of any obstruction within the booths or aisles. This also applies to presentations and demonstrations by the exhibitor and the gathering of participants at the booth.
Europlanet Socity reserves the right to reject exhibitors. In such a case, a respective rejection notification will be sent in a timely manner.
All exhbitiors and their staff are obliged to fulfil the Spanish requirements for large event participation including, but not limited to, evidence of a low epidemiological risk (e.g. vaccination status of EMA-approved vaccine), FFP-2 or medical masks, distance measures, usage of disinfectants, etc. These regulations might be adjusted between now and when EPSC2022 starts.
In order to avoid the spread of COVID-19 and to guarantee a safe conference for all participants, all exhibitors and their staff must agree to strictly follow the hygiene code of EPSC2022 and the rules stated at the time as issued by the Spanish authorities, the Palacio de Congresos de Granada, the Europlanet Society, and Copernicus Meetings. These regulations and the hygiene code might be adjusted several times, including at short notice until just before the conference starts. Under these considerations, onsite participation is at the risk of the exhibitor and their staff. Neither Copernicus Meetings nor the Europlanet Society, the Palacio de Congresos de Granada, or any company providing services for the onsite conference can be made liable for any possible infections, resulting damages to the attendee's health, or any subsequent suffering an attendee might experience.
The contact details of exhibitors and their staff will be recorded for possible contact tracing and must be passed on by Copernicus Meetings to the Spanish authorities in the event of an emergency.
Possible adjustments to the Spanish requirements for the large event participation and/or the EPSC2022 hygiene concept might lead to a situation where either an exhibitor is forced to cancel their on-site participation or Copernicus Meetings as event organizer is forced to cancel it. For such late cancellations due to Spanish travel and/or event regulations, Copernicus Meetings will reimburse the exhibitor's gross rental fee without an additional cancellation fee. Copernicus Meetings and Europlanet Society would not be liable for any subsequent claims for any other reimbursements (e.g. travel or accommodation costs of exhibitor staff members).
Due to the unpredictable circumstances, Europlanet Society and Copernicus Meetings may decide to cancel the on-site part of EPSC2022 rather lately and turn the conference into a virtual one. In such case, exhibitors will get reimbursement for the paid booth rental fee. Even in this case, Copernicus Meetings and Europlanet Society would not be liable for any subsequent claims for any other reimbursements (e.g. travel or accommodation costs of exhibitor staff members).